The ideal mounting solution for your phone and ACCESSPORT!

FREE SHIPPING TO THE US!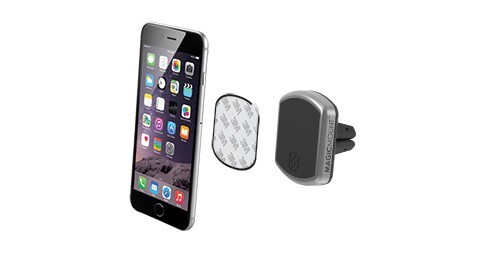 Magnetic Mount
Once the MagicPlate™ is applied as shown further down this page, just hover your device near the magnetic surface and it instantly locks securely in place. The sleek cradle-free design works perfectly with larger devices and allows you to position your screen for optimal viewing.
Interchangeable Trim Rings Bring An Element of Fashion Flair
The MagicMount PRO brings the mobile device mounting system to a whole new level with interchangeable trim rings. A Silver and Black trim ring is included with your purchase. Not your colors? Apple device color match trim rings, Space Gray, Gold, Rose Gold as well as Carbon Fiber will be available for purchase.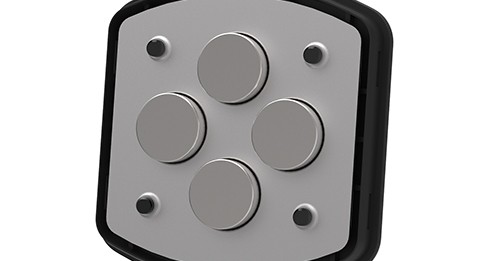 100% Safe, Powerful Earth Magnets
These powerful earth magnets hold your device securely in place even on the bumpiest roads and are 100% safe for Smartphones, Tablets, GPS and other mobile devices*. *Does not work with iPod Classic or other hard drive devices. The strong magnetic fields produced by these Neodymium magnets is enough to damage hard drive devices.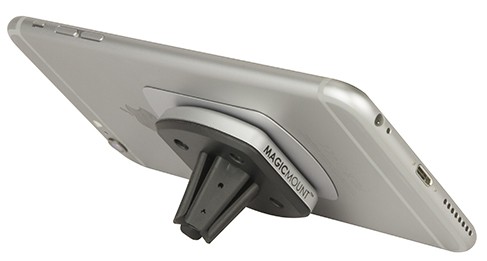 Works as a Kickstand
This vent mount is the perfect on-the-go solution within the MagicMount family. Not only does it easily slide from vent to vent, this mount also doubles as a kickstand. If you're always on-the-go or traveling, use this vent mount in your rental car or airline tray by day, and your nightstand or desk by night.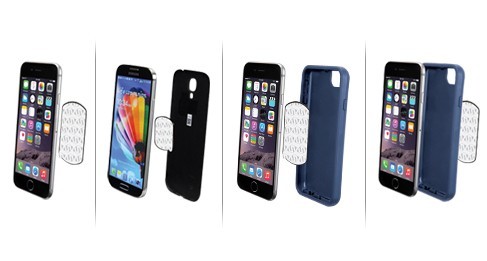 MagicPlate™ Placement Options
The MagicMount™ system uses powerful magnets to grip safely and securely to the MagicPlate™, which is a small adhesive metal plate that can be attached very easily to the back of your mobile device. You can choose to apply the adhesive plate directly to your device, under the battery cover or to the outside of the case. *MagicMount is not recommended for use with a mobile device encased in a wallet-style case cover.
Click Here for Optimal Plate Placement
"The magicMOUNT™ is ideal for cellphones, smartphones, multi-media devices, tablets, GPS systems and even keys!" -Trend Hunter
"Plain and simple, this is a great system for the price, and each component is worthy of our high recommendation." - iLounge
Patent Pending
Wonderful product. I use it on my STI and it works flawlessly. It looks like it belongs in the car.

Way better than the little plastic one that comes with the AP, easy to install works on multiple vents, and doesn't move at all, best investment ever, it's a must have!!

I bought 2 of these - one for my iPhone and the other for my AccessPort. Both can be seen easily while driving and they stay in place even when driving on fought roads. They were shipped in a timely manner considering we're both on opposite coasts.