FREE SHIPPING TO THE US!
This kit includes the carbon fiber trim ring as well as new backing plates (one small and one large)
Interchangeable Trim Rings
The MagicMount Pro brings the mobile device mounting system to a whole new level with interchangeable trim rings. A Silver and Black trim ring are included with your purchase. Not your colors? NOW AVAILABLE! Color match trim ring kits that match your Apple devices in Space Gray, Gold, Rose Gold, as well as a terrific looking Carbon Fiber pattern are available to purchase.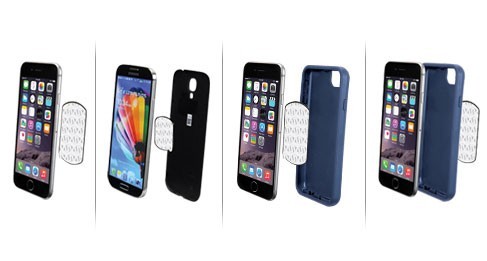 MagicPlate
™

Placement Options

This magnetic phone mount utilizes it's griping power by adding a small metal plate to your device. Whether you like your phone naked, or use the larger, bulky cases on the market, this mount is for you. The included MagicPlate can be applied directly to your device, adhered to the battery just under the battery cover, sandwhiched in-between the phone and case or to the outside of the case. *MagicMount is not recommend with use of a wallet case or wireless charging.
Click Here for Optimal Plate Placement